5 Benefits of a Weed Burning Torch
5 Benefits of a Weed Burning Torch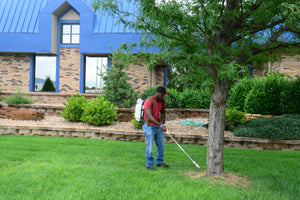 Weeds are a common problem in yards and gardens. Not only are they unsightly, but they can also compete with plants for resources like sunlight and water. One way to control weeds is to use a weed torch or weed burner. This method is chemical-free and therefore safe for use around children and pets. In addition, because there is no harmful runoff, it is also safe for the environment. Weed torches work by quickly heating the weed's leaves to a high temperature. This disrupts photosynthesis killing the tender weed through the roots.
Use Clean Burning Propane – most weed burners run on clean burning propane as fuel. Propane is easy to obtain and torches run well on a BBQ grill sized tank.
Easy to Use – The torch design and operation are simple. Turn on propane, light the torch,
Chemical Free weed Control – Fire leaves no run off so you the kids and pets can play in the yard right away! And, you don't have to work about when it rains! (in fact, you want to do it after a rain, see more at How Flame Weeding Works)
Save your back – Ever woke up the morning after weeding the garden with a sore back? A weed burner doesn't require a back breaking work.
Versatility – Propane torches can be used to light charcoal, fire pits, removing paint and more!
While weed torching is an effective weed control method, it is important to use caution and follow the manufacturer's instructions carefully.  If you're looking for an easy to use, chemical free weed control solution, look no further than a propane torch. Flaming weeds is a great way to get rid of them without harming your plants or the environment. Not only is it easy and Chemical-free, but it's also versatile–you can use it for many other purposes around your home or property.
Find out what torch is right for you and order yours today and start enjoying weed-free gardens and yards with ease!